WRISTWATCHES WITH SMALL SECONDS HAND.
ULYSSE NARDIN

Model of years the 40'or 50'in English gold 9 KT.
Modèle des années 40/50 en or Anglais 9 carats.

Splendid decorated caliber PESEUX 260 for ULYSSE NARDIN.
Splendide calibre PESEUX 260 pour ULYSSE NARDIN joliment décoré.

The interior of the case back testifies of its English origin.
L'intérieur du fond de boite témoigne de son origine Anglaise.

.
OMEGA

Watch of the Forties with caliber 30 T 2 in "staybright" steel.
Montre de la fin des années 40 en acier Staybright.Calibre 30 T 2.

This movement OMEGA was assembled in several versions of the watch.
Ce mouvement OMEGA a été monté dans plusieurs versions de la montre.

Another Omega watch with the caliber 265.
Cette Omega dissimule un calibre 265.
.
CORONA

The brand CORONA is not very known.
La marque CORONA n'est pas très connue.

The brand of the caliber, Péseux is much more famous.
Le marque du calibre, Péseux est beaucoup plus renommée.

.
CD

Watch typical in steel from the end of the Fifties.
Montre en acier typique de la fin des années 50.
.
Claros

There is a lot of this kind of watches in the end of the 50'.
Il y eut de nombreux modèles de ce type à la fin des années 50.

This plated model gold is equipped with a French caliber Cupillard 637.
Ce modèle plaqué or à lunette tournante est dotée d'un calibre Français Cupillard 637.

.
ANONYMOUS MODEL

Model from the end of the 30' in gold.
Modèle des années trente en or 18 carats.

It is probable that the hands of this watches comprised Radium.
Les aiguilles de cette montre étaient certainement peinte avec un revétement au radium.

.


MONT-BLANC
The brand is famous but this watch was made during the 50S.
Ce nom de marque bien que célèbre ne correspond pas à la marque connue aujourd'hui.

.


JUVENIA.
Juvenia was a great manufacture and mad great watches. The brand sells again watches today.Juvénia fut une très belle manufacture. La marque existe toujours.
.


HERMA.
This brand disappeared during the 70S.
Cette marque a disparu dans les années 70.

.


MORVIL.

.


PHILIPPE Precision.
Date and small seconds hand watch for a famous brand of the 60S.
Date et petite seconde pour cette marque réputée des années 60.

.


Two anonymous models.
Deux modèles anonymes.

.


REC

.


RELAY.

.


ROBIS.

.


SUIZEX.
.


AMEX.

.


ELVES.
.


FESTIVAL.
.


ZAND.
.


ALIX.

The caliber / Le calibre
.


LEGION ETRANGERE

.
VINTAGE ADVERTISING
PUBLICITE DES VINTAGES

Rolex advertising from 1931.
Publicité Rolex de 1931.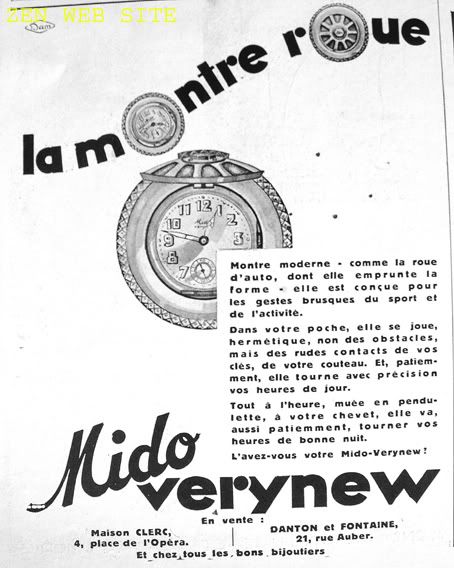 Mido advertising fron 1930.
Publicité Mido de 1930.

Omega advertising from 1930.
Publicité Omega de 1930.